Wapping Post
While having a tidy-up at home I came across a copy of the "Wapping Post" which was published during the 1986/87 News International Wapping dispute in support of the sacked workers.
I decided that it was worthy of a wider audience, so I scanned it all to make it available as a free ebook.
I also discovered, while browsing the web, a 25-minute video ducumentary called "Wapping and the Wire" which was made to commemorate the first anniversary of the dispute.
That video has been incorporated into the ebook.
I would like to make further copies of the "Wapping Post" available, so if anyone has copies at home, and would like to help, please get in touch.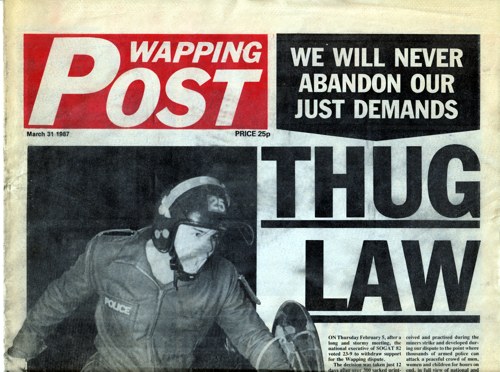 The last "Wapping Post" ever? Dated March 31, 1987 this full 16-page issue is included in the Ebook
Clicking the first link will start downloading the Ebook in Zip format (the size is approximately 120MB):
The Wapping Dispute 1986 Ebook
If you have a suitable Bit Torrent client (Utorrent, Shareaza, etc.) you may like to try this Magnet link:
The Wapping Dispute 1986 Ebook