The Surgeon Factory
A 262 page, soft bound, book has recently been completed, Linotype set and letterpress printed on a Miehle Vertical, circa 1954, with the help of Leather Apron Docent Guild members at the International Printing Museum in Carson, California, USA.
Click here to watch a video review of the book.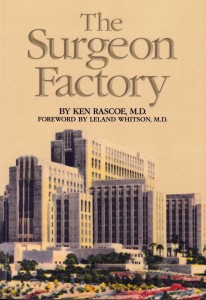 Dr Leland Whitson said: "The Surgeon Factory, was written by my beloved Uncle Ken Rascoe, M.D.
As the author described the story, "It is a semi-autobiographical, fictionalized story based on his experience as a surgical resident at Los Angeles County General Hospital. " It is a great story and would make a good movie or TV series.
I had decided to get the book published and had approached our Curator Mark Barbour after having obtained some estimates from vanity press companies. Mark looked over the 369 page manuscript and said, "Why don't you just print it here as a project. Ray Ballash can teach you the Linotype and we have a Miehle Vertical or Heidelberg Windmill on which you could print it."
I gave it some thought and calculated that working just on Saturdays it would take about one year to complete the Linotype setting and a few months to complete the printing. I told Mark, "I'd like to go ahead and produce the book here at the Museum. I'll give Ray a call and see how soon we can get started. "
My estimate of the time to produce the book was more than some what in error. By the time we finished the project two months ago which was over four and one-half years since starting.
I did learn to use the Linotype with the help of Ray Ballash and a couple of other Docents who were Linotype operators. I have noted that I did learn the keyboard fairly well but also became quite good at jamming the machine. To this day I still have difficulty clearing jams.
About the time the Linotype setting began, a wonderful retired Linotype operator, Luis Garcia, and his wife, Elizabeth, came to visit the Museum. I happened to be giving the tour. As we approached the Linotype display, Elizabeth tugged on my shirt saying, "My husband used to own these machines. " I was elated and asked Luis if he would like to sit down and set a few lines. He said he hadn't operated the machine in over 20 years but yes he'd like to try. With that he set down and did set a few lines with ease.
Well, Luis has returned almost every Saturday since that day to help with the book and to demonstrate the Linotype to visitors. Luis has essentially set every one of the 262 pages. On one occasion, because of my error, he had to reset and entire chapter, which he did in one afternoon. When leaving at the end of the day, he frequently thanks me saying, "Doc thanks so much for this opportunity, it makes me feel young again. "
Luis' visit to the museum was featured on Metal Type at the time: Mexico City Newspapers.
We started printing on a 1922 Miehle Vertical V-36, serial number 122, which Gary Marc Remson, a Docent and the Museum manager, who owns such a press, got the press operational. The year 1922 was the first year of production for the V-36 and this was serial number 122. It proved to be very temperamental.
About the same time, a new Docent, Armand Veronico, joined the Museum and agreed to help me with the project. Armand is a talented and knowledgeable retired printer who had a good sized printing company, Trigraphics inc., in Santa Monica for many years.
Armand and I learned a lot from using the V-36, it taught us to swear a lot. It was difficult to get it to feed and would frequently feed two or three sheets at once. Inking was difficult to get consistent. We were lucky to get one or two runs of 250 pages a day.
Fortunately, Curator Mark Barbour picked up a much newer donated Miehle, a V-50. It had been in outside storage covered (partially) with a tarp and was completely frozen. Gary Mark Remson and his printing instructor colleague Jack Conway went to work on the press with a power washer and then removed years worth of dirt, old ink and even tree leaves. They were able to put this press back into service much to our delight.
Another new Docent Dan Craig, a machinist, was also of great help in getting the V-50 going as well as assisting in the printing.
The new V-50 in action
After a lot of cleaning and lubricating we started printing on our "new" V-50. What great pleasure to feed an entire run of 250 sheets without the feeding problems of the V-36. Armand, Greg and I were able to easily get 3 to 4 runs completed in one day. Our record for a Saturday was five runs. During a week's vacation from my medical practice, Armand and I worked "full time" for one week and really produced a number of runs per day. Our record was seven runs in one day.
Docent Tim Steinmeier, a professional graphic artist, designed the beautiful cover for the book and assisted me in getting it printed digitally.
I had found a book bindery company, M & M Book Binding; with in two miles of the Museum who did a wonderful job of binding the soft bound edition at a most reasonable price.
I have learned so much doing this project. I doubt there is another physician in Southern California who can set type, operate a Linotype, and run a Miehle V-50.
This has truly been a labor of love, and a posthumous tribute to my beloved Uncle Ken who was truly my mentor in medicine and in life.
The book is available for purchase: The Surgeon Factory Book. We are asking a $25 donation for the book, which is a tax deductible donation. S & H fee is $5 for Priority Mail. The donation can be made with PayPal, the museum's email address is: gary-AT-printmuseum.org (replace -AT- with @).