The Glass Door (1)
Don's story is on 3 pages:
Page 1, Page 2, Page 3.
Taken from Don Hauser's book "Printers of the Streets and Lanes of Melbourne" this is the story of Don's lifetime career in print from 1949 to the present day. Don't forget you can always print this story using the "Print this page" button. More extracts from Don's book, describing several Melbourne printing firms, can be found here.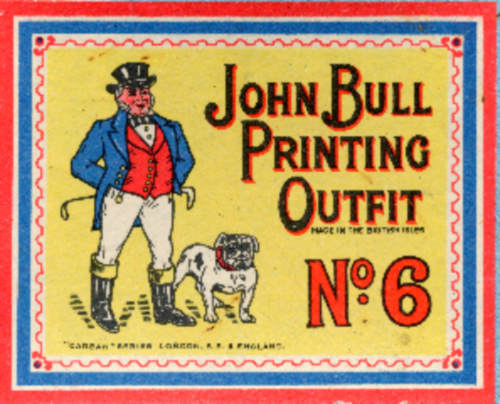 From age ten I remember messing about with my John Bull Printing Outfit and a cocktail of glycerine, gelatine, builders' glue, methylated spirits and violet hectograph ink, the basics of a primitive spirit duplicator as prescribed in Hobbies Illustrated circa 1949.
In grade five at Tyler Street primary school, Preston, my first newspaper, The Weekly Trumpet, was hand lettered on quarto paper and pinned to the class notice board. About this time my mother bought her first washing machine, a Hoover with a fold-away hand-wringer. "What a perfect way to run off a few copies of the Trumpet and sell them to the kids" I thought! But something went terribly wrong. Instead of the violet hectograph-inked paper-master soaked in methylated spirits transferring onto white paper, it ended up on the wringers of mother's new pride and joy! The Weekly Trumpet appeared on whites and coloureds for weeks until the image disappeared.
At Northcote Boys' High School in form 2c I began the Two Cee Gazette a hand-written and illustrated paper that appeared on the form notice-board. John Daniel, another boy in the same form, started a rival 2c Star. Mr Dean, our English master of the day, (known to the boys as "Clipper" for his frequent clipping of young ears) spotted the educational benefit and suggested "a merger". The result was the Associated Newspapers Magazine. We were allowed restricted use of the school's Gestetner duplicator and Banda spirit duplicator; now we could print supplements and feature pages in living colour! John Daniel and I alternated as editor and deputy editor.
The paper continued but while I was in form three my father died after a long illness. Our family moved to Surrey Hills and I was sent to Camberwell High School. My new co-educational school environment failed to interest me on any level. I was a sorry lad and wished to conclude my schooling.
My mother, widowed and apprehensive, gave me her permission to leave Camberwell High School and find an apprenticeship in printing.
Arthur L. Edgerton, printers and envelope makers of City Road, South Melbourne employed me on probation as an apprentice hand-compositor. Edgertons specialised in producing envelopes of every description! I soon discovered that six years of hand setting "if not claimed within seven days, please return to" was not my idea of typographical skill! Furthermore, I didn't endear myself to my employer when ink remover that I was using to clean varnish off a Heidelberg platen press (varnish used to print the translucent windows on envelopes) leaked through the floorboards onto a brand new red Chevrolet Bel Air sedan in the workshop below. A shiny metallic hole appeared through several layers of new enamel paintwork.
Robert Schurmann ran a commercial art studio in Swan Street, Richmond. He prepared finished artwork for retail advertisements for newspapers using photographic bromide prints and typeset patches from type he stored in matchbox trays and proofed on a small Adana hand press. He also taught typographical design part-time at the Melbourne School of Printing and Graphic Arts then located at Melbourne Technical College, building number 4 in Bowen Street. He learned that I was looking for an apprenticeship and arranged for me to visit Exchange Press in Spencer Street for an interview.
Exchange Press
I started there, again on probation, with apprenticeship in view. The pay was three pounds, two shillings and sixpence per week with a five shilling increase in my first apprentice year. My new-found skill in typesetting if not claimed etc. in size eight point meant that I could easily set up my first job, a wedding invitation … Mr & Mrs Brown request the pleasure of the company of etc … in size twelve point wedding text without requiring any tuition.
Bill Hewitt, a tall distinguished looking man was the composing room foreman with excellent teaching skills and outstanding ability as a typographer and designer. Bill Hewitt was a father figure to me and I believe that he recognised this and gladly passed on his many skills for my benefit.