Paradigms Lost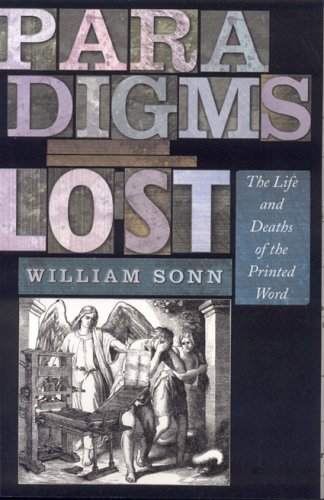 METAL TYPE contributor Bill Sonn has had his book on the history of the printing industry published - after a long gestation period!
The book is called Paradigms Lost - The Life and Deaths of the Printed Word.
Here is Bill's description of the book: "Paradigms Lost" tells the history of how the world changes in glamorous and tumultuous ways each time the distinctly unglamorous and obscure task of producing written knowledge changes.
It turns out that the gritty business has gotten dramatically cheaper four lonely times in human history.
But, each time it did, governments soon wobbled. Strange new groups gained power. Commerce turned upside down. Religions lost their grips. Military power shifted. Even the ways we learned seemed to change in the ensuing decades.
It happened in the mid-1400s, the early 1800s, the late 1800s and the mid-20th century.
Now the cost of actually producing the printed word, it seems, has fallen again. If the past is any guide, we're in for a rough ride in the near future.
But the book is also a story of the accidents, bad workers, eccentrics, geniuses, dour investors, tough-guy labor organizers and eccentrics who somehow conspired a few special times to make lightning strike.