The Graphotype
The Graphotype article is spread over three pages: Page 1, Page 2, Page 3.
Many thanks to Robin Kenworthy for sending in this article, originally published in a book called "Typographical Printing Surfaces" shortly after 1907. The Graphotype was an early rival to the Monotype system, but had the keyboard and casting system in the one machine.
Robin has a museum-worthy collection of machines, type and matrices as well as an extensive library on the subject of letterpress.


Graphotype (new model) composing and casting machine; view of right-hand side from the front
Work has been steadily proceeding on the Graphotype in America, and an improved machine was evolved in which the matrix-plate comprises 225 characters and spaces.
This new model is due mainly to the inventive effort and mechanical skill of W Nicholas and W Ackerman.
In the first place, the keyboard and its electric connections were modified so that the typewriter layout, repeated for each fount, capitals and lower-case, both roman and italic could be adopted.
A machine with this keyboard layout was exhibited in Madison Square Garden in May 1907, and the claim is advanced that the adoption of this principle by the Graphotype was made prior to its adoption by the Monotype.
The range of set widths available was increased by dividing into sixteen equal parts the body, or the maximum set width selected for the quad, as in the Monotype.
The set widths range from 4-unit to 16-unit inclusive, there being three rows 8-unit (en quad), and two rows 10-unit.
This arrangement may, however, be modified or changed according to the width of the alphabet to be adapted.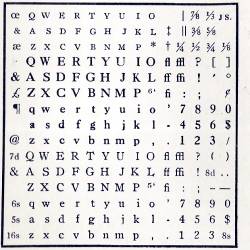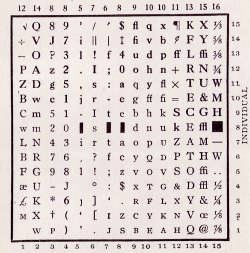 Left: Graphotype improved keyboard layout; Right: Layout of matrix-plate

Go to Page 1, Page 2, Page 3.