Express Gifts
The Express Gifts pictures are spread over three pages:
Page 1, Page 2, Page 3
Chris Johnson contacted Metal Type in November 2007 saying that he was an engineer working for Express Gifts, part of Findel PLC and had been looking after 3 working Intertype Monarchs for the past 11 years. The company had recently acquired a refurbished Intertype C4 to bring the count of working linecasters up to 4! The machines are used to produce slugs of people's names to manufacture personalised gift items.
The machines all have a Decitek Floppy Disk Drive operating a Fairchild Teletypesetting unit. Chris very kindly sent in the following photographs and video of the machines in action.
The machines are really put through their paces in this video, with "hanging lines" as the computerised teletypesetting equipment quickly knock out the name slugs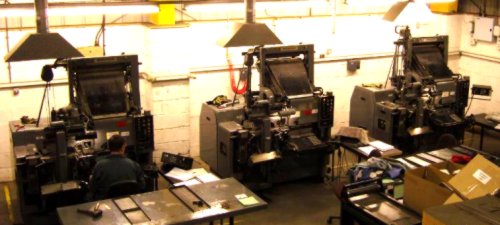 An overview of the 3 Intertype Monarchs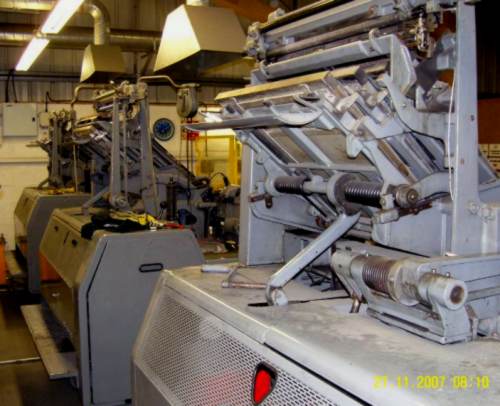 The row of Intertype Monarchs viewed from the rear
A small selection of Letterpress Ebay listings appear below. A much bigger selection appears here. Linotype-related Ebay listings are here.