Excelsior Press
The Excelsior Press pictures are spread over 2 pages:
Page 1, Page 2
Alan Runfeldt runs a 1930s era print shop in Berkeley Heights, New Jersey, USA. As well as traditional letterpress printing Alan rescues, restores and passes on old letterpress equipment such Kelsey Excelsior Platen Presses, Chandler & Price Platen Presses and Vandercook & Challenge Proof presses. He also collects, catalogs, uses and some times passes on fonts of hand-set foundry type and wood type as well as the cases and cabinets to keep them in.
In this three-minute video we see Alan working in his print shop to the accompaniment of some traditional jazz music.
Multilith Offset Press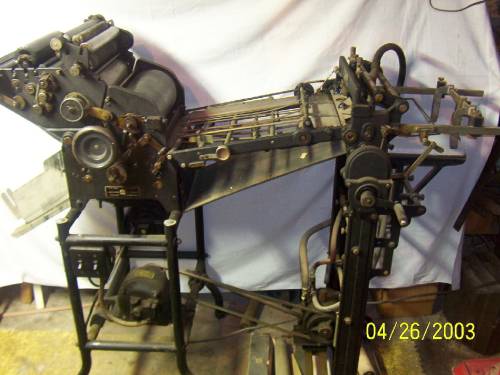 I don't think this press is in Alan's collection, his website says the press is in Philadelphia. I had to include the picture, though, it's got to be the oldest litho press I've seen

A small selection of Letterpress Ebay listings appear below. A much bigger selection appears here. Linotype-related Ebay listings are here.