Daily Mirror, UK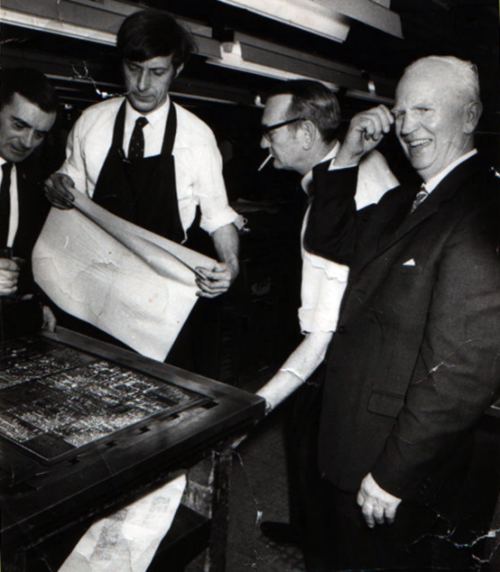 FROM L-R: Bert Heinman, Tom Bailey (who sent in the photograph), Charlie King and Norman Barnes overseeing the last wet dab of the front and back pages of The Mirror on the night of his retirement as "The Printer" in the early 1970s
Tom Bailey said: "To my mind the setting of type was an art form and having spent many hours setting five point type, visually letter-spacing said type for advertisements to be published in newspapers; actually cutting up cigarette papers and bus tickets to use in the spacing. Remember I was not the only one, I had to learn from somebody.
I left advertisement setting to work as a time hand on the Mirror for nearly 20 years which was a complete new experience; and so different.
Skill was in the make-up of the pages and the time it took. I made up many fronts and not once in all those years did I hear the words "Hold the front page". The chief sub would whisper in your ear: "Sorry but we have to do a new one" and that would be about three minutes before off-stone time of 2215hrs.
I left the Mirror to start my own business in new tech typesetting shortly before the then proprietor, Robert Maxwell, went missing along with the Mirror's pension fund.