Yorkshire Evening Press 1942
Many thanks to Ian Cottom, from York, who sent in this photograph which he bought from the Gazette and Herald newspaper in 1946!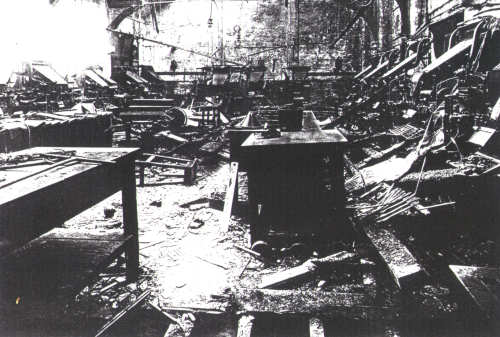 Ian says: "The photograph shows the Evening Press lino room the morning after the Baedeker raid on York by the German Air Force on the night of April 29, 1942.
Showers of incendiary bombs spattered in line across the River Ouse from the other side of Coney Street, St Martin's church, the Guildhall and Rowntrees warehouse where North Street gardens now are.
All were gutted including mainly the old lino room, standing roughly where the City Screen foyer now stands. I can still smell the acrid smoke from the ruins.
We had about 15 or 16 Lino machines some of which were remarkably restored by Reg Cooper and Chris Pool. They were in use well into the 70s as were several items of 'furniture': The Stone trolley, the proof press, the rack and several stools, one of which I used to park my bum on. Chris Poole used one to sit on whilst graphiting the 'mats'.
The paper never stopped publishing though and the next day's edition was printed by Ackroyds of Harrogate from flongs from our foundry which were saved from destruction. The Press came out at the usual time — remarkable, eh?"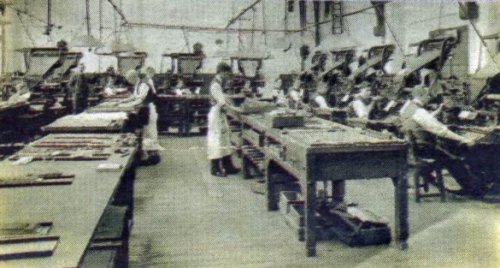 Happier Days — the same room photographed 1900-1920
65 Years Later . . .
From the Yorkshire Evening Press: "A Luftwaffe pilot who bombed York during the Second World War was hailed as a guest-of-honour during a trip to the area. Willi Schludecker, who targeted England in 32 separate missions — including a devastating attack on York — paid a flying visit to RAF Linton-on-Ouse, near York.
Mr Schludecker, 87, said: "This is the first time I have ever set foot on an RAF base and I think it is wonderful."
He first returned to York in April this year, when he visited the sites where his bombs fell. He said then he wanted to come back to say sorry to the people of York for the 1942 raid, which killed 92 people and injured hundreds more.