The Nodis Rapid Caster
THIS MACHINE was advertised in the November 1944 edition of The British Printer.
The text of the advertisement is as follows: "Type! A Worry? It isn't to printers who have a Nodis Rapid Caster.
"They always have full cases of perfect type, and can quote for a job in a great variety of faces, as a large library of matrices is at all times in their service.
"Their Nodis Rapid Caster casts from Nodis, Linotype, Intertype and other matrices using the same mould. Also Rules, Leads, Borders, etc.
"Low initial cost, low running cost, perfect solid hard type.
"Manufactured at Nodis Works, Julien Road, Ealing, W5 by The Williams Engineering Co. Ltd. of British materials by British labour with British capital.
"Although, during the war period, orders cannot be executed for this machine, all enquiries will be answered fully and promptly."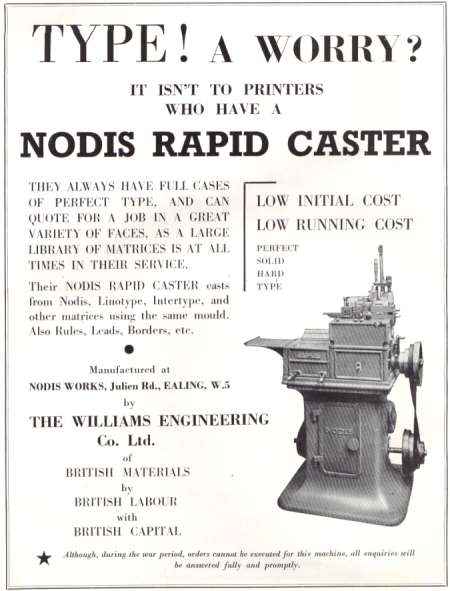 The original magazine advertisement