Provost News
The Provost News pictures are spread over two pages:
Page 1
Page 2
Rich Holmes, who also provided the Linotype Model 8 Video has sent in these pictures of the Provost News, Provost, Alberta, Canada, including one of his father at the News Editor's desk.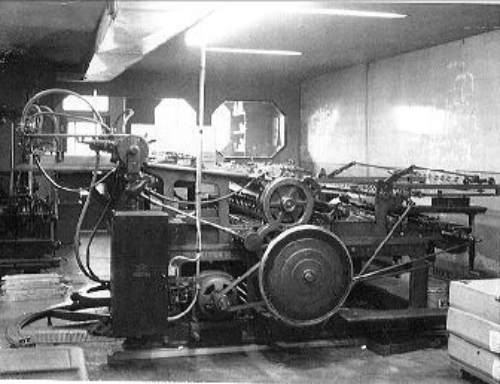 The old Miehle newspaper press that used to be used by the Provost News in Provost, Alberta Canada during weekly newspaper operations.
It would print 4 pages 10 X 16 inches approx at one time. Then we would take out the four letterpress pages, put in four different ones, re-load the newspaper stock upside down and then print on the other side.
Then that large sheet (4 and 4 = 8 numbered pages) went to a semi automatic hand-fed folder to produce the folded 8 pages.