Intertype Models
Most of the following illustrations and model descriptions were taken from "Intertype Book of Instruction" published by the Intertype Corporation in 1943, with the exception of Models A, B and C which were talen from a pamphlet entitled "Standardized and Interchangeable Intertypes" which it is believed was published in 1917.
Star Base
Model A
Model B
Model C
Side Magazines
Model C4
Model C4-4s.m.
Model F4
Model G4-4.s.m.
Model C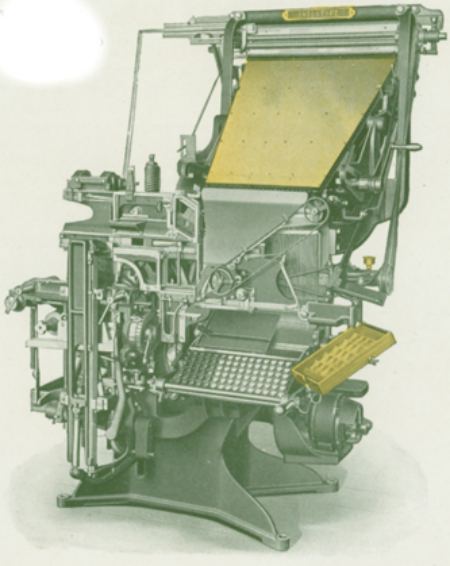 SIMPLICITY of design and construction is the predominant feature of the Intertype Model C.
The same simple assembling and distributing mechanisms that are used on the single- and two-magazine Intertypes are also used on this three-magazine machine, and it has the same direct connection between escapements and keyboard rods.
It is, therefore, fully as fast and reliable as any single-magazine machine, with the added advantage of three magazines always at immediate command.
Its interchangeable magazines are quickly removed and replaced, at the back of the machine, the third or bottom one as easily as the other two.
Changes from one magazine to another are made by one revolution of a convenient handle.
With an equipment at instant command of six or more different faces, in three or more sizes, the Model C will handle a wide range of composition without the removal of a magazine.
With extra magazines the machine's range can be increased indefinitely.
Model C carries all Intertype simplifications and improvements.