Intertype Models
Most of the following illustrations and model descriptions were taken from "Intertype Book of Instruction" published by the Intertype Corporation in 1943, with the exception of Models A, B and C which were talen from a pamphlet entitled "Standardized and Interchangeable Intertypes" which it is believed was published in 1917.
Star Base
Model A
Model B
Model C
Side Magazines
Model C4
Model C4-4s.m.
Model F4
Model G4-4.s.m.
Model F4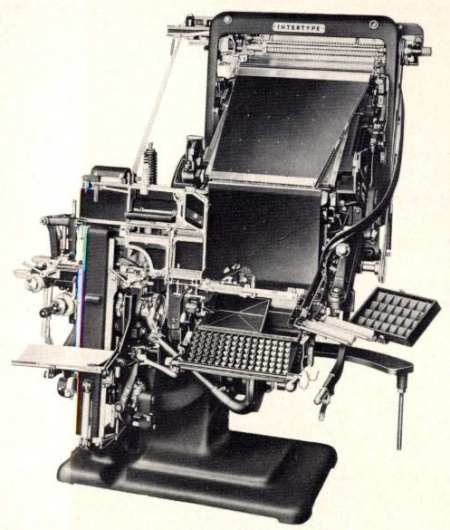 The Model F4 is a double distributor mixer machine with four 90-channel main magazines.
This machine may be equipped with two or four 34-channel side magazines (F4-2s.m. and F4-4s.m.). Front removal of main magazines.
All F4 mixer machines are convertible into non-mixer machines (Twin C4, C4-2s.m. and C4-4s.m.).