All-Purpose Linotype (APL)
The All-Purpose Linotype section covers three pages:
Page 1
Page 2
Page 3
Matrices to be cast on the All-Purpose Linotype are assembled in a composing stick held in the left hand, in a similar manner to the composition of hand type. The lower side of the stick is toward the compositor, the locking screw to his right. The matrices are set face up.
The ease of this method will appeal to the compositor since every letter is visible exactly as it will print, thus affording the opportunity to read lines carefully to check possible errors, and also adjust spacing as needed for balance.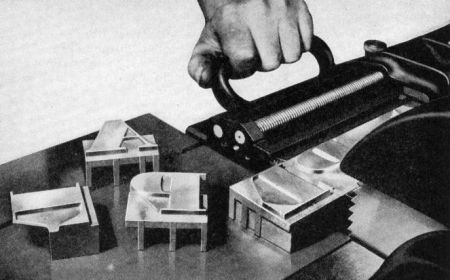 In order that the APL equipment may be self-contained, a slug saw has been perfected for cutting type slugs, furniture and all material cast on the machine.
The APL Slug Saw-Trimmer is attached to the table of the machine and is completely equipped with the latest approved safety devices, guides and attachments for both straight and angle cutting and trimming.
It is a valuable adjunct to the machine, because of its proximity to the work-table and by reason of the unique "type-foundry" feature, which offers inexhaustible quantities of new, type-high individual characters, cast at minimum investment.
The saw is equipped with a right-hand guage used to quickly align type matter with the saw blade when cutting two or more slugs to fit a given measure, as in newspaper banner lines.
The guage is located at the right side of the saw and can be thrown out of position when not required.