Later Machines
Illustrations and machine descriptions of Models 8 to 26 are from a pamphlet called "Linotype Flexibility" published by the Mergenthaler Linotype Company in 1930. Models 28 to 32 from "Linotype Machine Principles" published in 1940.
The Linotype Model 8
The Linotype Model 9
The Linotype Model 14
The Linotype Model 25
The Linotype Model 26
The Linotype Model 28
The Linotype Models 29 & 30
The Linotype Models 31 & 32


Linotype Model 26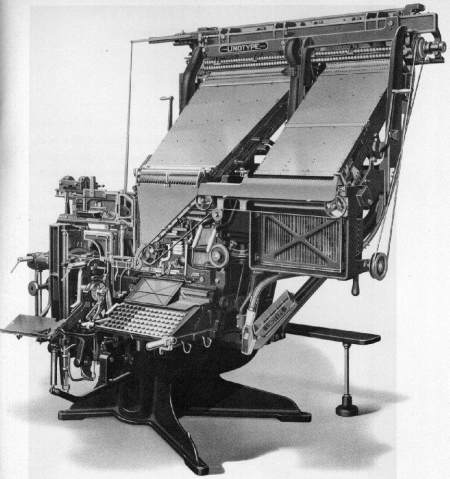 THE ADDITION of two 34-channel extra wide auxiliary magazines makes a Model 26 of the 25.
Matrices from these two magazines can be freely mixed with each other and with those from either of the two main magazines.
As a head or ad machine in the newspaper office, or for the ever-varying demand of book and job offices, the Model 26 has proved its ability to give quantity production of the highest quality under the most difficult requirements.
The auxiliary magazines have a capacity of 34 characters, which may be utilised for an alphabet and figures of any face up to and including extended 36 point, and medium condensed faces up to 60 point.
The main and auxiliary magazines are operated from one power-driven keyboard. The change from main to auxiliary magazine is instantaneously made and is controlled by the typewriter shift key method. Split main magazines may be used in either upper or lower position.
Change of operative position on magazines is made instantly by a single movement of a conveniently located lever, without interrupting distribution. Magazines can be shifted while matrices are in process of distributution.
Any magazine can be removed from the front of the machine and changed in a few seconds.
Built for either 30 or 42 picas maximum measure.