Later Machines
Illustrations and machine descriptions of Models 8 to 26 are from a pamphlet called "Linotype Flexibility" published by the Mergenthaler Linotype Company in 1930. Models 28 to 32 from "Linotype Machine Principles" published in 1940.
The Linotype Model 8
The Linotype Model 9
The Linotype Model 14
The Linotype Model 25
The Linotype Model 26
The Linotype Model 28
The Linotype Models 29 & 30
The Linotype Models 31 & 32


Linotype Model 25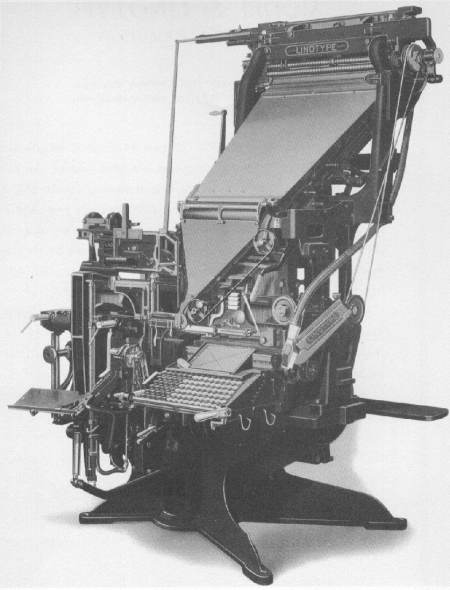 THE ADVANTAGES of multiple distribution are not confined to work on which it is desired to mix matrices from various magazines.
Multiple distribution means that any character in the machine is available at once; that you can shift from one magazine to the other or set a correction line from either, without even waiting for the last line to distribute.
Change of operative position on magazines is made instantly by a single movement of a conveniently located lever, without interrupting distribution. Magazines can be shifted while matrices are in process of distribution.
As on all Linotypes, any magazine can be removed from the front of the machine and change in only a few seconds.
Two main magazines. Built for either 30 or 42 picas maximum measure.