Later Machines
Illustrations and machine descriptions of Models 8 to 26 are from a pamphlet called "Linotype Flexibility" published by the Mergenthaler Linotype Company in 1930. Models 28 to 32 from "Linotype Machine Principles" published in 1940.
The Linotype Model 8
The Linotype Model 9
The Linotype Model 14
The Linotype Model 25
The Linotype Model 26
The Linotype Model 28
The Linotype Models 29 & 30
The Linotype Models 31 & 32


Linotype Model 14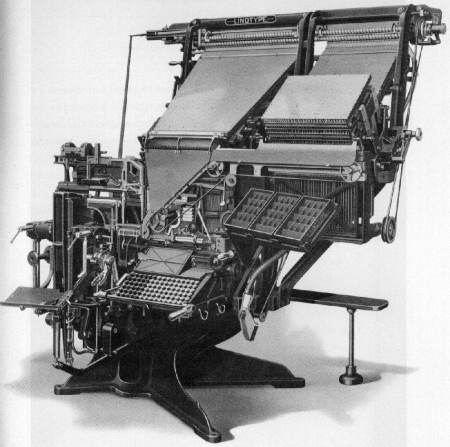 THIS MACHINE is a Model 8 plus the wide auxiliary magazines of 34 channels.
The auxiliary features of the Linotype gives the machine a considerably wider range of usefulness: each magazine will accommodate a full alphabet of characters and figures of any size up to and including extended 36 point, and medium condensed faces up to 60 point.
The operative position of multiple auxiliary magazines is instantly shifted by the movement of a convenient lever located at the right of the machine.
Like all Linotype magazines, these auxiliary magazines are independently removable from the front of the machine.
Fully equipped the Model 14 carries three main and three wide auxiliary magazines, but you can start with whatever combination of equipment you need now and build up to full capacity as needed.
The Model 14 can also be supplied as a single auxiliary machine without the three magazine supporting frame.
The main and auxiliary magazines are operated from one power-driven keyboard.
The change from main to auxiliary magazine is instantaneously made and is controlled by the simple typewriter shift key method. Also built as a display machine. Built for either 30 or 42 picas maximum measure.