Linotype Factory, Brooklyn, NY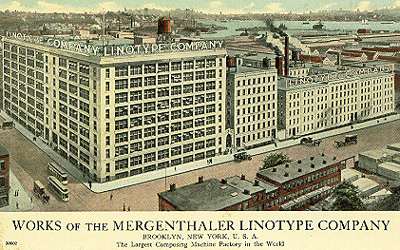 A picture of the Linotype Factory in Brooklyn, New York, USA. I would guess (looking at the vehicles) it dates from some time between the turn of the 20th Century and World War One. The small print at the bottom proclaims it to be "The Largest Composing Machine Factory in the World." I think it may have been produced as a postcard.
A small selection of Letterpress Ebay listings appear below. A much bigger selection appears here. Linotype-related Ebay listings are here.