Burlington Press & Electrical Press
The Burlington Press & Electrical Press Photos are spread over two pages:
Page 1
Page 2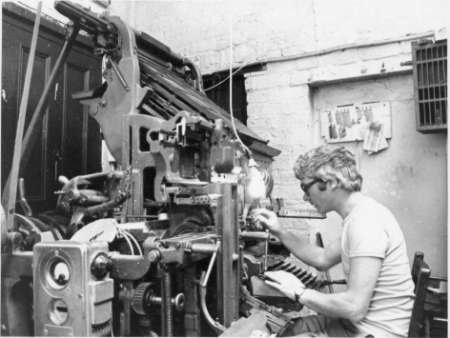 I'm on the Linotype in Burlington Press, Bridlington, a one-man operation (my Dad and my mother) until his death in 1978. I'm probably on holiday from Aylesbury, where I was department overseer on the Bucks Herald. I worked a brand new Intertype there, a model that came out before the days of the Elektrons etc. A ten-line-a-minute job with a blower etc. But I could still keep a line hanging. But despite the blower the mould got so hot that it would splash often, and the union man told me to slow down or everyone would have to work at my speed. They promised me an output bonus but it never materialised.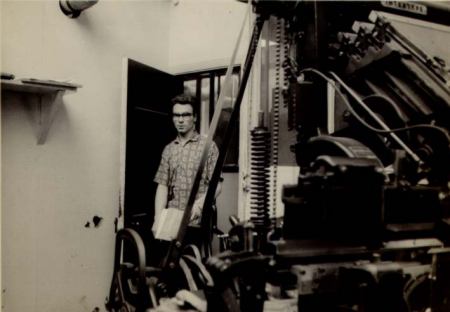 This is the mid-60s and I'm working at Electrical Press in Maidenhead. They had a mono department and a single Intertype. We handled Shooting Times & Country Magazine, Railway Magazine and many other titles. I worked the machine days and another fellow worked nights.
A small selection of Letterpress Ebay listings appear below. A much bigger selection appears here. Linotype-related Ebay listings are here.