Shields Gazette Centenary
Many thanks to Ken Blasbery for taking the trouble to copy and send in this book, which was published in 1949, celebrating the centenary of Britain's oldest provincial evening newspaper.
As you would expect for this type of publication a lot of emphasis is placed on the journalistic side of things, with production matters tending to take second place.
The towns of North and South Shields, are situated on the banks of the River Tyne in the UK. Shipbuilding and seafaring were important local industries and feature strongly in the newspaper's story.
Selected parts of the book are featured on these pages.
The Shields Gazette centenary stories are spread over two pages: Page One, Page Two.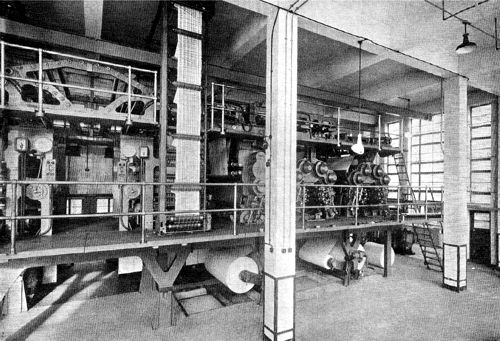 Goss rotary press, c1949
Shipping Industry
The Tyne had its prides then as it haas now, In 1849, was lost in the Arctic ice, the Lady Jane, last of the river's whalers, and very popular, for each time she went to sea, schoolboys got a half-holiday to see her go out with garlands flying.
Another was the iron steamship Britannia, which maintained a passenger service between Newcastle and Leith, and was evidently an important vessel as the first issue of the Shields Gazette advertised lithographic prints of the ship at four shillings plain, six shillings coloured – a lot of money in those days.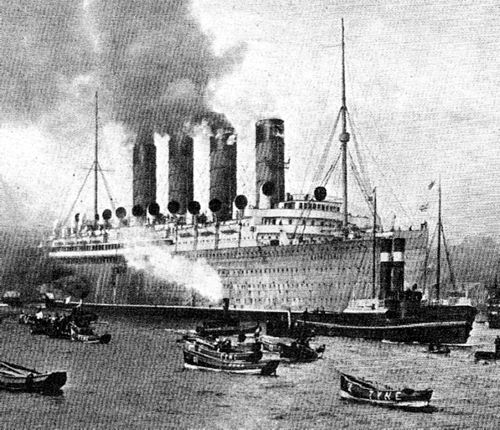 Pride of the River Tyne and for many years of the Atlantic, the famous liner RMS Mauretania leaves the Tyne for her first trials at sea on September 17, 1907
Production Department
The publication offers this brief description of the composing area:
From the Editorial Department the news copy passes to the Composing Room where it is set into type on Linotype machines.
The Linotype is a mechanical typesetter with a keyboard similar to that of a typewriter. The operator depresses the keys and brass matrices are released to form a line of column width.
Each line is automatically cast in metal (an alloy of lead, antimony and tin). For the larger headlines and type the brass letter matrices are set by hand and cast on a Ludlow machine.
When the lines of type have been set and assembled in proper sequence on long trays called "galleys" proofs are printed, or "pulled", and sent to the readers who check the proof with the original copy for errors and deviation. The corrections are reset and checked again.
Next the type is placed in a metal frame called a "forme" and made into two pages of The Gazette. This is done by compositors who follow a plan supplied by the chief sub-editor. Blocks of pictures are now inserted in the page.
An early advertisement
The Shields Gazette centenary stories are spread over two pages: Page One, Page Two.
A small selection of Letterpress Ebay listings appear below. A much bigger selection appears here. Linotype-related Ebay listings are here.