200,000th Heidelberg Press
Thanks to Don Mountain for sending in this material that documents the completion and delivery of the 200,000th Heidelberg press in 1968/69.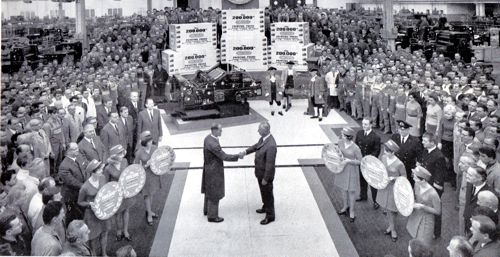 December 1968, the 200,000th Heidelberg press rolls off the production line in Germany
This article was published in "Seclarion" the newsletter of Seligson & Clare (Aust) Pty Ltd, the Australian Agents for Heidelberg at that time.
"This was the scene at the Wiesloch plant of Heidelberger Druckmaschinen AG on December 10, 1968, when the company celebrated the completion of the 200,000th Original Heidelberg press – a Model SBDZ two-colour rotary / flatbed cylinder.
The two figures in the centre foreground are (left) the foreman of the assembly line for Heidelberg S Line presses and (right) the chairman and managing director of the company, Dr. Ing E.h. Hubert H.A. Sternberg.
In the centre background is the anniversary press backed by the six crates into which it was subsequently packed for shipment to Australia and installation at the Richmond plant of Shipping Newspapers (Vic.) Ltd.
The German and Australian flags are seen flanking an enlarged replica of the 200,000th Heidelberg plaque which will be affixed to the press after installation. A small gold replica of this plaque was also shipped along with the press for presentation to its new owners.
Following the official ceremonies, which were witnessed by the staff of the Wiesloch plant, company executives and their guests, were given a tour of the plant and a gala party wound up the day's proceedings.
The 200,000th Heidelberg was then crated and delivered to the Nord-Deutscher Lloyd freighter MS 'Tannstein' at Hamburg where, after another departure ceremony, it left Germany on the journey to Australia."
Three months later, the same machine in Australia. Don Mountain, who sent the article in can (just) be seen back row, second from left