David Evans, A New Era, 2011
David Evans recently got in touch with me. You may remember he was featured on Metal Type way back in 2002.
His business in Halifax ran six Intertypes producing personalised gifts. To cut a long story short, David's business has now been taken over and has moved to Mytholmroyd, 4 miles up the road.
The letterpress equipment will still be in use, now producing packaging material, etc. for home decor items.
Stanley Wilson, whose company Urban Cottage Industries, is now in partnership with David Evans, said: "David's unique collection of analogue print equipment spent several years in a hard fought but ultimately losing battle with digital printers.
With the investment and support of Urban Cottage Industries Ltd, the collection relocated to a new semi-purpose built home in Mytholmroyd.
Far from retirement, the collection has been carefully serviced, organised, revitalised and expanded in preparation for a heavy weight relaunch in Spring 2012.
We'll be producing a new and unique collection of printed, foiled, embossed and die cut products and making it available via a new interactive website."
I managed to get to Halifax for one day during the three-day moving process. The presses were being moved on that day. I hope to bring you some pictures of the Intertypes being moved at a later date.
David's varied collection of Heidelberg "windmills" being transported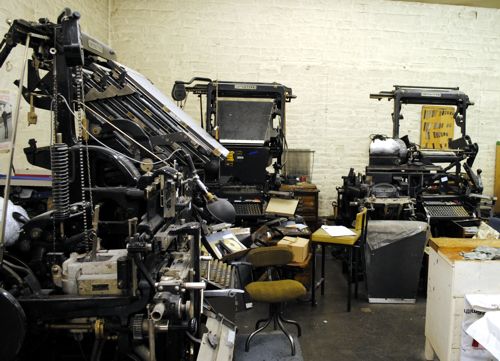 Ready to move, the old Halifax premises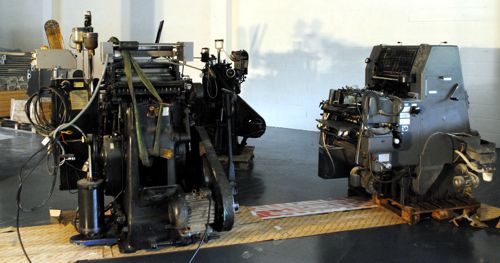 Presses in the new premises at Mytholmroyd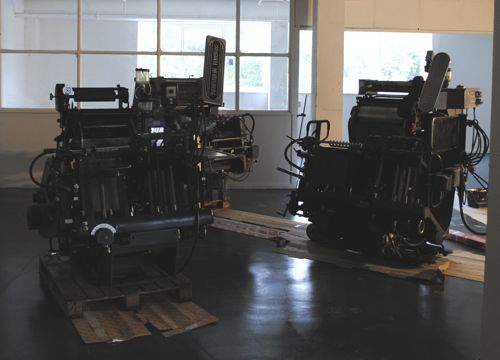 Pictured in isolation, the presses look like they are in a museum!