Last Hot Metal Financial Times
Many thanks to John Bowles for taking a trip up to his attic to get these photos for inclusion on Metal Type.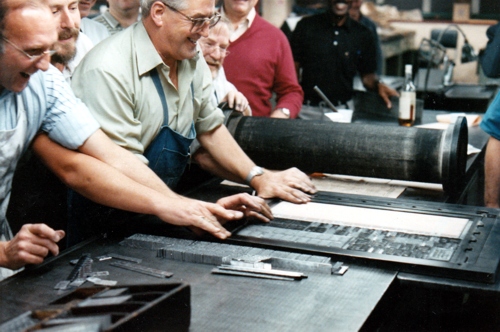 The last hot metal edition of the Financial Times slides off the stone
Says John: "It wasn't the Front Page, the important pages were being done paper paste up by then.
If you look closely you can see one half of the page downwards is probably a table of figures, lots of these were on flexographic plates, but the figures from that days trading from the stock exchange were all moveable type and a crew used to come in at 6.45pm and correct the previous days tables to that days, with of course their Compositor's tweezers.
Once they were all done you went onto the comp floor to make up that night's pages. I was on this crew.
The Compositors pictured are: Eric Kempster, pushing the page, to his left, beard and glasses, Dennis Rush, to his right with the glasses, Bernard Thomas, and with his head poking between and bearded, John 'Robbo' Robertson, a smashing bloke who I met again for the first time in years at The FT Pensioners Carol Concert.
In the other two photos is one of the comps who is in your Evening News photo, white shirt and glasses, Peter Brain, lovely bloke.