Stan Ballard
About three years ago Steve Ballard posted in the Metal Type forum asking if anyone remembered his father Stan Ballard, a letterpress comp who unfortunately died in 1988.
John Bowles recently got in touch, and even took a trip up to his attic to find this photograph of Stan.
Here are John's memories of Stan.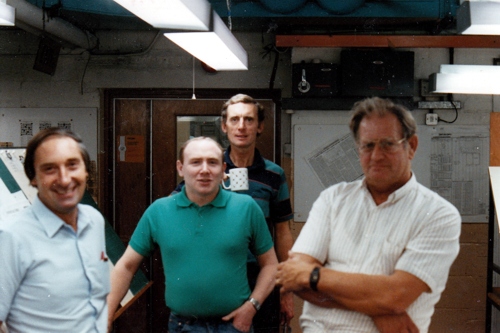 Stan Ballard and colleagues pictured at the Financial Times
HERE IS the picture of Stan Ballard, he is the one on the right. The picture belies the actual size of him. He was a huge stocky man, nice natured and very good at his job.
When I started on the FT my dad said say hello to Stan Ballard and tell him you are my son and he will make sure you are OK. Stan and my dad used to work together in the General Trade and would bump into each other now and again around Fleet Street.
Stan was a popular man, like all printers he liked a bit of gossip and a laugh and a joke. If I made a mistake he would say "more haste, less speed" and "you're not as good as your old man."
When I was standing round talking to somebody he would come up and say to them, "I worked with his dad, you know, his dad's a much better comp," and they would say, "Is that right Stan" and he would add, "yes, and his dad is a nice bloke as well," and walk away smiling.
Anyway, that photo comes from when he worked on the Financial Times shortly after being made redundant from the London Evening News. In fact in your Evening News photo one of the comps there is Peter Brain, smashing bloke, who also worked on the FT.