Unusual Intertype
Mike Phillips sent me an electronic copy of "The Printer" the front page was taken up with this very unusual Intertype machine, I've got to say I've never seen anything quite like it!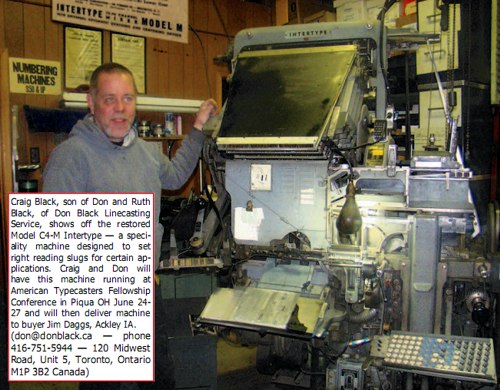 The article from "The Printer"
The accompanying article, which you may just be able to read in the inset box says:
Craig Black, son of Don and Ruth Black, of Don Black Linecasting Service, shows off the restored Model C4-M Intertype – a speciality machine designed to set right reading slugs for certain applications.
Craig and Don will have this machine running at American Typecasters Fellowship Conference in Piqua OH June 24- 27 and will then deliver machine to buyer Jim Daggs, Ackley IA.
Editor's Note: I received the copy of "The Printer" very close to the end of March 2010, which, of course, makes its publication date very nearly the first of the following month!