Railway/Railroad Press Car 1913
The photographs on this page were taken from the collection held by the United States Library of Congress.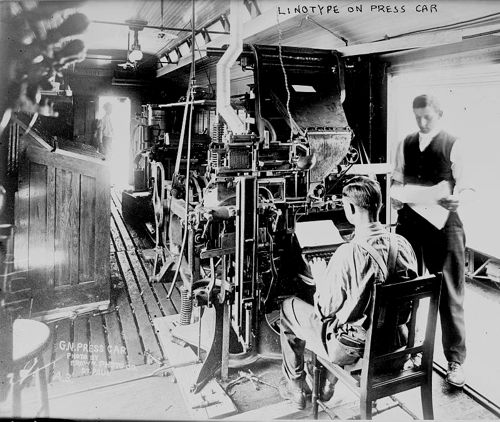 Linotype operator photographed on a Great Northern Railway press car in July 1913, published by Bain News Service.
I'm presuming the train was stationary at the time the photo was taken, the man reading from a piece of paper would be in a very dangerous position otherwise!
Detail from the background of the above image (taken from just to the right of the inter-connecting door).
Various other bits of equipment can be seen on the picture – presumably there's a press in there somewhere – some type-cases to the left of the picture.
This item puzzled me though, seems to be cylindrical and shiny, with writing on it. Anyone got any ideas?
Update: Leon Wood contacted Metal Type after this article was published with the following: "I believe the 'shiny canister' in the photo is part of the fuel supply for the gas-fired crucible."
Then, Metal Type Forum Moderator George Finn, spotted another photograph of the same press car.
Said George: "Here we are looking at the back of the Linotype from the press room. Photo was taken the same day.
No cylinder? It must be behind the photographer.
Here's the second photograph: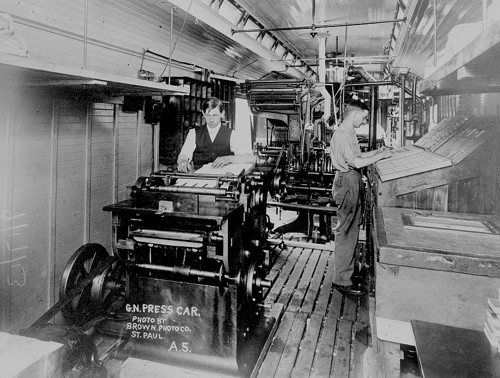 Second view of same press car, taken from behind the Linotype machine.