Rangemaster Model 35
The material on this page is taken from a brochure published in circa 1960 by the Mergenthaler Linotype Company. The brochure showcased the company's latest machines and innovations, including the Linofilm System.
The whole document is available for download, in PDF format, from the Metal Type Library.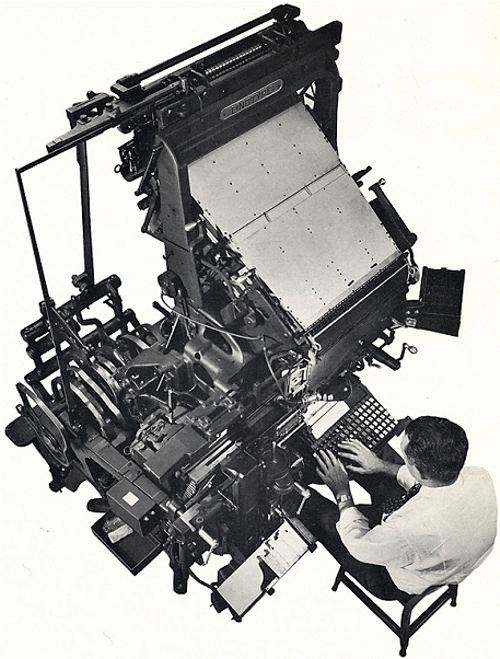 The wide magazine Model 35 Rangemaster Linotype has unsurpassed main magazine range and production capacity, it's perfect for keyboarding large type sizes.
No other composing machine can match the range, capacity and versatility of she Rangemaster Model 35 Mixer without using auxiliary magazines.
With the Blue Streak 35, the operator can keyboard large headlines and advertising display, eliminating slow hand setting. He may also keyboard the most intricate two- and three-line food store and other mixed composition, eliminating cut-ins and reducing make-up time.
By merely flipping a handy lever, the operator can mix faces from two adjacent magazines; this simplifies overhang slug work and makes cutting-in unnecessary. And Linotype's famous One-Turn Shift shifts magazines in two seconds.
The 35 Rangemaster comes equipped with two or four wide magazines, either 90-channel or combinations of 90- and 72-channel. Wide 90's carry faces through normal 24- and condensed 36-point. Wide 72's go through 36- and condensed 48-point.
The economy of time and effort in keyboarding headlines and ad display Immediately translates into a saying of money, too.
The 35 Rangemaster enables the operator to assemble matrices from two magazines in the same line without shifting magazines.
Distribution of these matrices into their proper magazine channels is continuous and automatic.
It is simple to set copy that calls for roman, italic and bold face in one line, for two type sizes in one line, or for alternation of type faces in successive lines.
Its versatility – its ability to keyboard large faces as well as speed output of classified and body faces when needed – make the Model 35 Rangemaster Mixer a terrific asset to any composing room.