Willimantic Daily Chronicle
The Willimantic Chronicle photos are spread over six pages:
Page 1, Page 2, Page 3, Page 4, Page 5, Page 6.
Vin Crosbie allowed these excellent photographs to be used on Metal Type.
Vin said: "These photographs detail the production of a 10,000-circulation daily newspaper in Connecticut on Friday, March 17, 1961. I found these slides among those of my father, the paper's general manager. The Chronicle has been owned by my family since 1877. I'm the fifth generation and the sixth is already working there.
To see more of these photographs on Flickr click this link: The Willimantic Chronicle in 1961.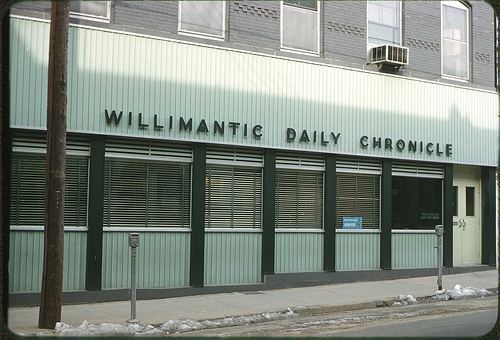 The newspaper was located in this building at 24-26 Church Street, Willimantic, Connecticut from 1877 until 1972. The building was demolished in 1976 after the newspaper had moved to the outskirts of town. The old location is now the Arthur W. Crosbie [memorial municipal] parking lot. My father, who died shortly before the parking lot was build, would have chuckled if he'd have known a parking lot was named after him.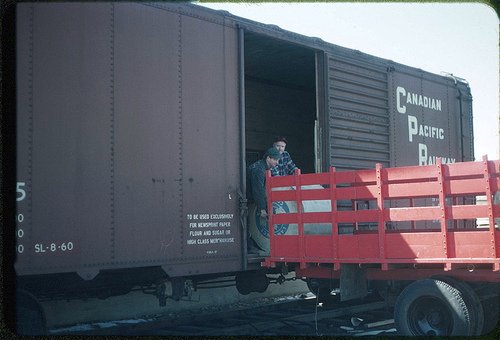 Rolls of newsprint roll off the freight train. The rolls would then be trucked to an alleyway behind the newspaper, where the press crew would push them into the the newspaper building.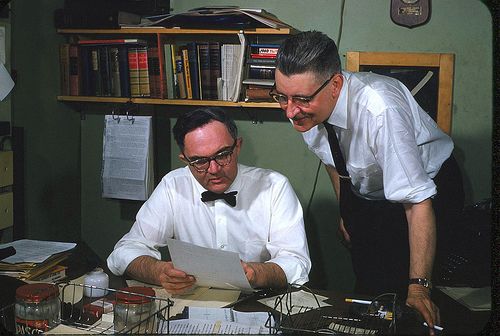 Editor Jim Malone and Reporter Walter Snow.

Go to Page 1, Page 2, Page 3, Page 4, Page 5, Page 6.