The Monotype Recorder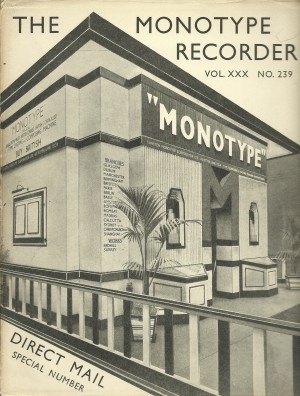 The Monotype Recorder was a trade magazine published by the Monotype Corporation. It was published for about 70 years from 1902 – it almost ceased publication during World War Two. Beatrice Warde was a long-standing editor.
Over 60 issues are available here in PDF format. We are greatly indebted to John Cornelisse for scanning in his personal collection, and making them available here on Metal Type. If you can fill some of the gaps in this collection please get in touch via this Metal Type Forum discussion. You can also use that link to discuss the Monotype Recorders further, or to thank John for his efforts.

Updates: A full list of updates to this collection can be found here.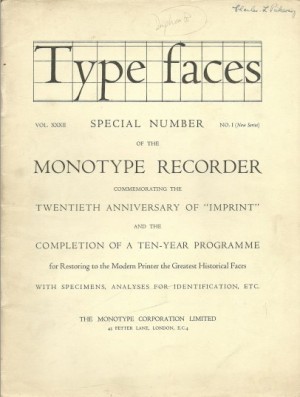 Content Summary: On the choice of typefaces; The advantages of printing from type; A comparison of various Monotype book faces.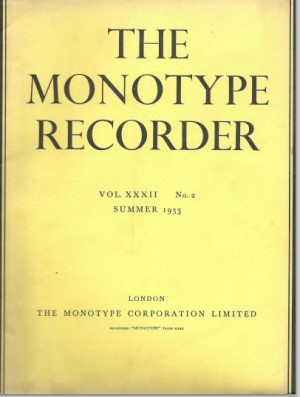 Content Summary: A sketch of the origin and growth of the printing craft in Yorkshire; Some typographic questions; Signor Silvio Massini – 30 years.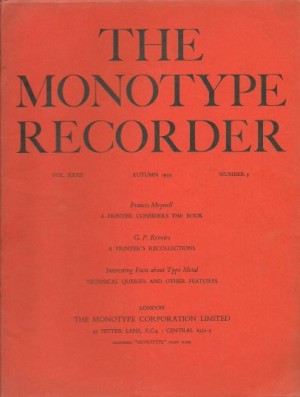 Content Summary: A printer considers the book; Livening the type book; Type Metal; A letter from Mr Eric Gill.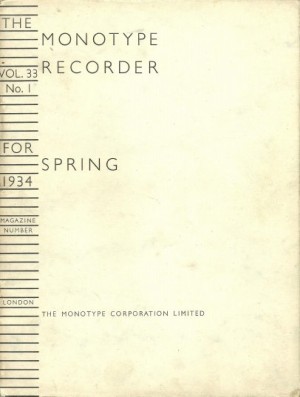 Content Summary: Aspects of periodical typography; Operators Diplomas – an announcement; Large sizes for small spaces.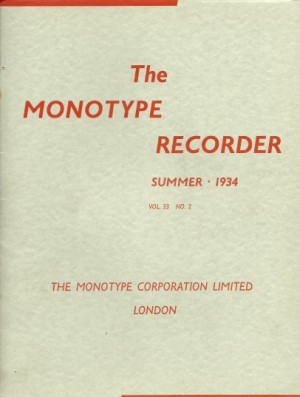 Content Summary: Prometheus in the printing office; Typography of the menu; Top 50 books of 1933.
Content Summary: An article on the printed catalogue; Remarks on advertising conventions.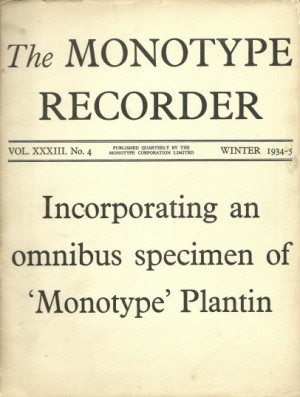 Content Summary: My Shakespeare; Hints on tabular composition; Monotype Plantin – a specimen.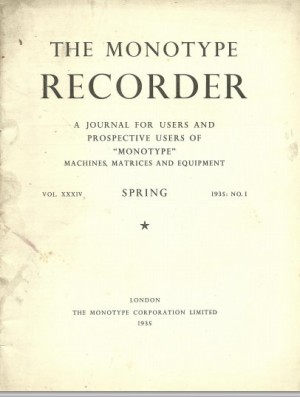 Content Summary: Books at Burlington House; Back Along – Memoirs of a Comp; A new Monotype mould.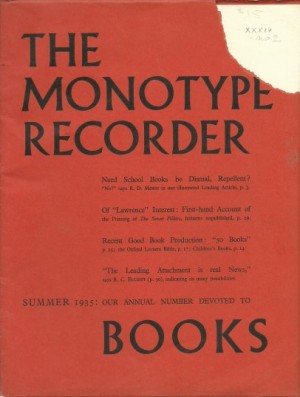 Content Summary: Need school books be dismal, repellent? Recent good book production; The leading attachment is real news.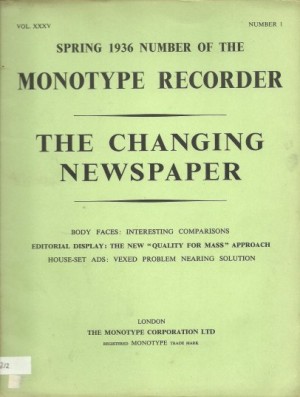 Content Summary: The changing newspaper; Body faces – interesting comparisons; House-set ads, vexed problem nearing solution.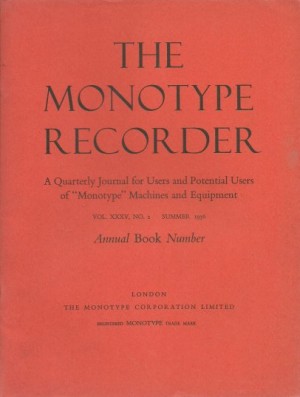 Content Summary: Book special; Penguin Books now standardised to Monotype Imprint; Justifying overset lines.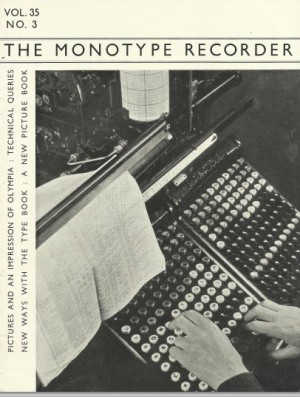 Content Summary: Pictures of modernity in type composition; New ways with type Book 2; Technical queries.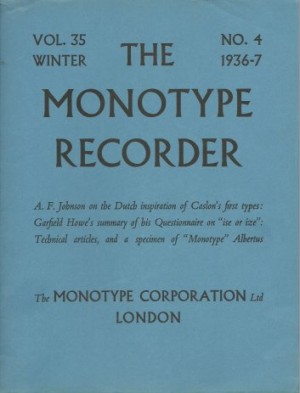 Content Summary: A note on William Caslon; A specimen of Monotype Albertus; -ise or -ize Garfield Howe sums up.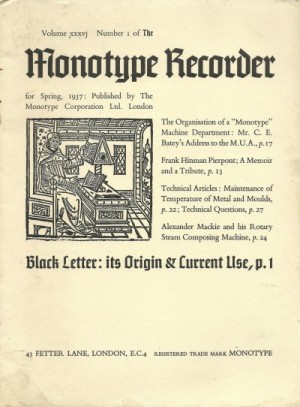 Content Summary: The organisation of a Monotype machine department; Maintenance of temperature of metal and moulds.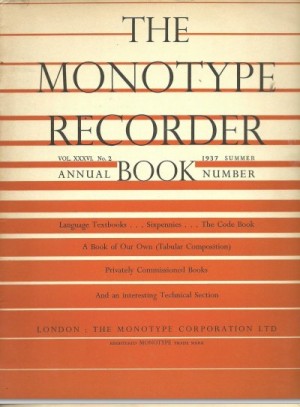 Content Summary: Large textbooks; Sixpennies; The code book; A book of our own (tabular composition); Privately commissioned books.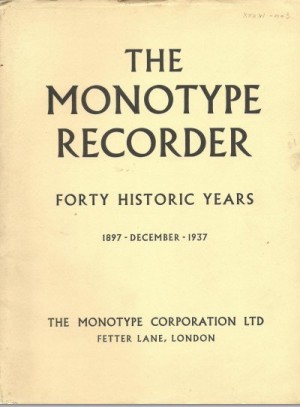 Content Summary: Forty historic years and what they brought about in the composing room; Printing The Times; A memorable family party.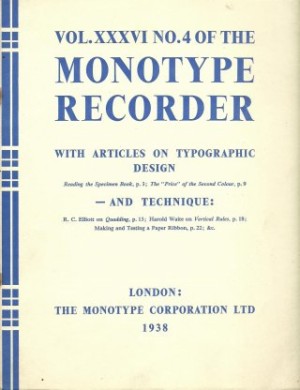 Content Summary: Monotype Bembo; Monotype Van Dyck 203; Monotype Bodoni; Monotype Bell; Monotype Centaur; Monotype Perpetua.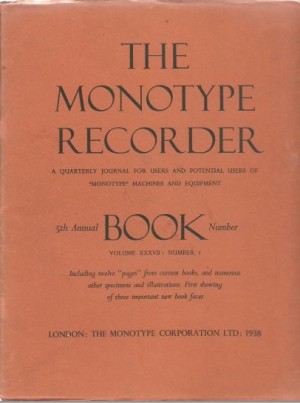 Content Summary: Typographic problems of the illustrated book; How paper alters the face; Copy fitting; Specimens of two new book faces – Emerson and Times Wide.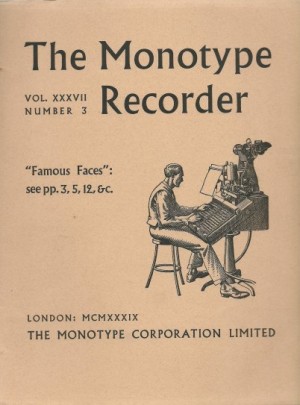 Content Summary: Monotype machines at Earls Court; Looking up the train; Combined spacing for caster attendants.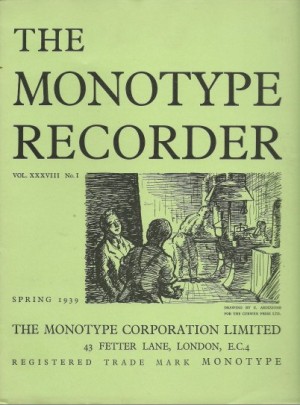 Content Summary: Monotype machines in the limelight; The Birmingham conference of operators; Quadding charts; Preparing a railway timetable.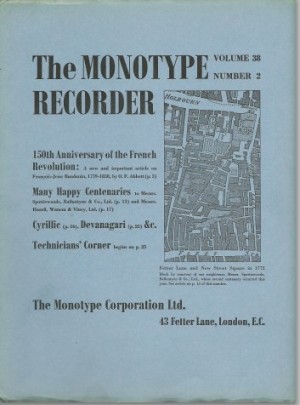 Content Summary: 150th Anniversary of the French Revolution; Many happy centenaries; Technicians corner.