Metal Type Downloads
Help yourself to a free screensaver, desktop wallpaper, retro clipart, ebooks and even a jig-saw puzzle. I'm planning to add more stuff here in the future. If you would like to be informed when new stuff arrives
click here
to sign up to the site's monthly newsletter (a new window will open).
Looking for Instruction Manuals?
If you are looking for printing machine instruction manuals, etc. you need to go to the
Metal Type Library.
You will also find all 12 issues of the excellent "Galley Gab" PDF magazine available for download.
Linecaster Screensaver
A free linecaster screensaver for both Windows and Mac operating systems which displays pictures of various linecasters along with sound (which can be muted!)
Windows:
(Metal Type.exe, 707kb.)
Download

Mac:
(Metal.bin, 4.8Mb)
Download.
Free Desktop Wallpaper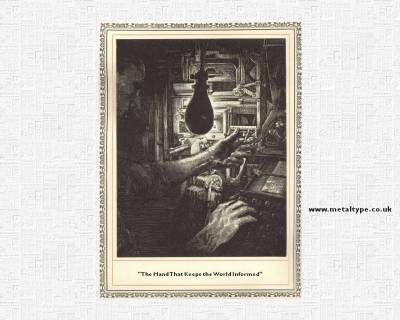 This wallpaper is available in three screen sizes, simply click the screen size that you want and the image will open in a new window, right-click the image and select "Set as background, etc"
800 X 600 -::- 1024 X 768 -::- 1280 X 1024
Free Retro Clipart

26 images from the Golden Age of printing. Superb drawings from the artist Cobb Shinn, probably dating from the 1950s or earlier.
Click here
to go to page.
How to Make a Printer's Hat
A free PDF file with instructions on how to make a printer's hat from a sheet of paper.
Click here
to go to page with further details.
Free Jigsaw
A free electronic jigsaw for you to download. Puzzle features an Intertype C4.
Click here
to go to page with further details, or
click here
to start download (Jigsaw.zip, 292kb).